NMEA to WiFi Bridge - Mk4 MAC
Cheapest marine Electronics-- All prices are in US Dollars.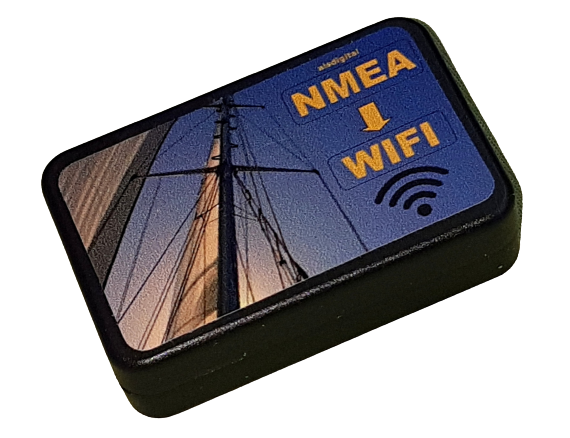 The WiFi bridge utilizes it's MAC address in the SSID name.
Can be hermatically sealed after wiring up.
Programming can be done without ever opening the box

A great help for the watch captain, by having a waterproof tablet mounted near the steering position,
to get a complete overview of the situation without having to leave his/her post
With the WiFi unit mounted inside the cabin, then regardless of the weather, anyone on deck, has always access to the boat's status.
The unit sends the NMEA 0183 data from your GPS/Chart Plotter/AIS Receiver etc to any WiFi enabled gadget.
* The unit transmits up to 15 meters distance.
* The signal passes through steel bulkheads.
* Data access is password protected.
* NZ charts + Navigation software for windows and Android is supplied
* The unit utilizes it's MAC address in the SSID name
No internet required.
Some details:
* On power-up creates its own hot-spot (AP) and starts transmitting data.
* Wireless Standard 802.11b/g
* You can Connect 1 talker, eg. AIS transceiver or Receiver / GPS.
Runs on 12V DC, very low power consumption
On Androids, one tap access to view the boat status on screen.
Simple to connect wiring to screw terminals
* 12V--------------12V+
* GND-------------GND-
* NMEA Device Tx--Rx
You can configure the following on the built-in webpage:
* Tx power (transmit distance)
* Baudrate
* Port number
* UDP protocol
The box can be water-proofed, as no internal access is required after wiring-up.
Any configuration can be done via the embedded web-pages.
The WiFi bridge will handle any RS232 data, at standard baud rates between 4800 and 38400
You can change the settings at anytime.
No waterproof tablet? Protect yours with a sealable plastic bag.
Comprehensive 'step by step' instructions are supplied on CD.
Some basic computer knowledge is required.
Size 80x50x20mm
In the package:
1 - NMEA to WIFI Bridge radio.
1 - CD with full install details, Free NZ charts, Nav software for windows / Android + many Marine utilities
Prices are in US DOLLARS
Delivery to the Russian Federation, South Africa and Israel, is not possible due to exorbitant shipping charges and pilfering.